Arranging Flowers 101
Let's talk about flowers. They are quite possibly one of my favorite things. They are beautiful. They smell nice. They have AMAZING color. There is a HUGE variety so the combinations are endless.  
If you are working with fresh flowers, the first thing you need to do is decide what flowers you want to use. This will help you determine the size and shape of the vase you will put them in. If you are using long stems, you will want a taller vase, obvi. :) If you are using just branches, stick with a vase that is tall and straight. This shape will highlight the simple and organic features of the branch. I like short and thick arrangements so I use smaller vases like the one below.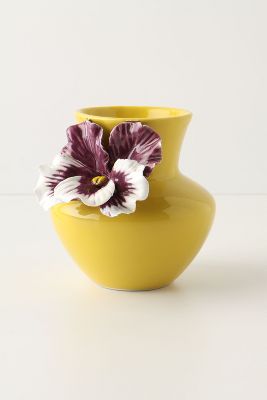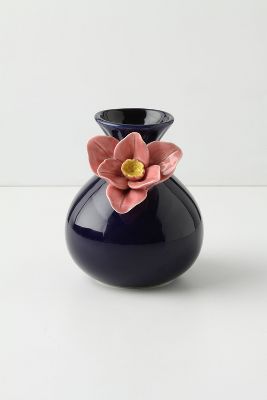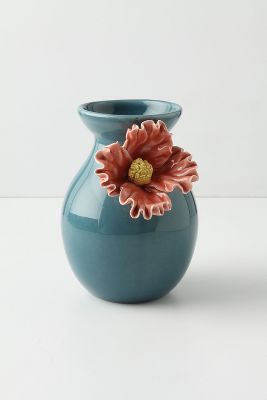 First, fill the vase half-full with water. Add some flower food. If you don't have some on hand, you can use 1 tsp. of white sugar, 2 tsp. fresh-squeezed lemon juice, and 1 tsp. of household bleach PER QUART OF WATER.
Second, cut your flowers to the desired length. When cutting, do it at an angle and place them in water immediately after. You will want your tallest stems in the middle to anchor your vase and your shortest stems around the outside edge. 
Third, lay stems flat on the counter in a row. Fan petals out to make them look fuller. Gather them up in one swoop and hold them tight just around the top part of the stem and just below the blooms. Tug and tuck until you have your desired look and place them in the vase. They will fall to the rim of the vase and that's why you want to fan the petals out. For a step by step video, click here.
Make sure to change the water daily to keep the flowers looking fresh!
A couple tips:
This is a great way to keep short stems in place. Use tape and make a grid to place individual stems in.
                 image via Martha Stewart
Always use clean and SHARP tools
Cut flowers a few inches under water
Cut flower stems at an angle
Several ideas for displays:
Place individual stems in a single vase. This looks simple and clean, but definitely makes a statement.
image via The Colorful Living Project
Arrange them in a pumpkin! The folks over at Martha Stewart carved out a pumpkin and placed a small vase filled with dahlias INSIDE the pumpkin. So classy.
               image via Martha Stewart
In a vase filled with lemons! This actually helps feed the flowers too! 
Put your vase in front of a large painting! This bouquet is a knockout.
image via That's Happy
When all else fails, just stack em'.
   image via poppytalk
First four vases belong to Anthropologie, but I wish they belonged to me!
Hope you have a BLOOMIN' awesome day!